Industrial cables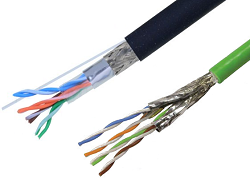 The industrial cables category is a broad group comprising various products, the common feature of which is adjustment of parameters and structure to demanding specialist applications.
Applications for industrial cables
These cables are designed for operation in harsh conditions, and they usually feature some unique characteristics that other types of cables do not have.
Depending on the features, the cables can be used:
for powering submersible pumps,
in railway transport,
in mining industry,
in welding,
in food industry,
in chemical industry and refineries,
for power and signal transmission in jibs, robot arms, or cranes (high-endurance cables).
The most important types of industrial cables:
resistant to mechanical factors resulting from crushing, stretching, twisting, or winding;
resistant to environmental conditions, i.e. designed for operation in low and high temperatures, in high humidity, in immersion (e.g. undersea cables), resistant to UV or flames;
resistant to chemical factors: oils and greases, ozone, diluted acids and alkalis;
resistant to mould and bacteria (can be disinfected with hot water under pressure);
intrinsically safe (EX),
that do not emit any fumes,
of high flexibility,
spiral, for reels.
Examination of industrial cables
An important feature of industrial cables is their structure that ensures the longest and safest possible operation. Properties of the cables are examined depending on their destination, to confirm compliance with standards applicable to a particular industry.
Such examination includes safety issues connected with the use of the cables (e.g. whether they emit hazardous substances when on fire).
---
See also:
---
Summary
There is an extensive offer of industrial cables available on the market. Selecting an appropriate cable depends on industry requirements, the obligation of meeting particular standards and obtaining appropriate certification, and cable properties are carefully examined in terms of electrical and functional features.