Coil Wires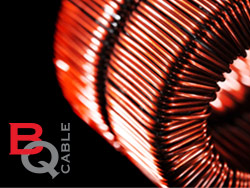 Broad selection of single and double coated enamelled coil wires for standard applications, of circular cross section.
All wires from BQ CABLE can operate within the range (thermal protection class) from -65°C to 200°C and are classified as EI/AIW Class 200:
The primary application for this type of coil wires is in various types of coils and transformers in electronic systems.
Thanks to the use of insulation made from polyamidoimide, with breakdown voltage of 5kV, these wires can also be used in systems featuring relatively high voltages. The use of enamel also means that the wires are highly resistant to temperatures and mechanic factors, and therefore can be used in systems featuring relatively high currents, as well as in application where there is a threat of vibrations, which require high mechanical resistance.
| Parameters | DN2E0.15/0.25 | DN2E0.80/0.25 | DN2E2.00/0.25 | DNE1.65/0.25 |
| --- | --- | --- | --- | --- |
| | | | | |
| Type of wire | coil wire | coil wire | coil wire | coil wire |
| Cable features | double coated enamelled | double coated enamelled | double coated enamelled | single coated enamelled |
| Outside diameter | 0.15mm | 0.8mm | 2mm | 1.65mm |
| Net weight | 0.25kg | 0.25kg | 0.25kg | 0.25kg |
| Operating temperature | -65...200°C | -65...200°C | -65...200°C | -65...200°C |
| Kind of core | Cu | Cu | Cu | Cu |
| Package contents | 1600m | 55m | 8m | 13m |
| Insulator material | enamel polyamidoimide | enamel polyamidoimide | enamel polyamidoimide | enamel polyester imide |