Single Core Cables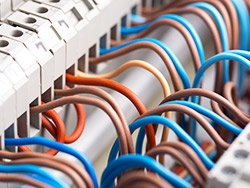 Single core cables (e.g. KYNAR, LGY, TLY) are used in solderless wrapping connections, and as wiring in control cabinets, switchgears, etc. Furthermore, there are also used as a part of cable bundles. They are solid or stranded installation cables made of pure copper or silver-plated oxygen-free copper.
Key parameters of single core cables are:
core diameter
the material of which the internal insulation was made, e.g. FEP or PVC.
Depending on particular installation needs, you can choose from several insulation colours: white, brown, black, red, purple, blue, orange, grey, green, or yellow.
While choosing an appropriate cable, one should consider such parameters as maximum outer diameter, rated voltage, and operating temperature (e.g. -65 to 200°C). Special cables are used in areas of high humidity. It is also important to take into consideration the flexibility class of the cable (class 5 or 6). The cables are usually available in 5, 10, 25, 50, 100, or 200 m. The majority of single core cables conform to a European harmonised standard, e.g. H05V-K or H07V-K.