Ribbon Cables and their applications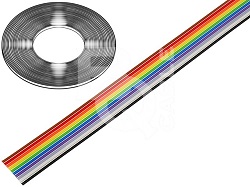 Single- and multi-coloured ribbon cables are used e.g. in fixed connections in telecommunication devices or electronic control systems for machines.
Additionally, using e.g. IDC connectors, the cables can be used:
in wire-to-board static connections,
in connections between modules of breadboards, HDDs, or boards with displays and keyboards.
Thanks to their construction, separating a core from the rest of the ribbon is very simple, and it facilitates direct installation in devices or connectors.
All ribbon cables are available in the most common 1.27mm cable pitch with 8 to 64 cores, which means they can be used even in very demanding applications.
Parameters
FLC-16/30-E
FLCC-10/30
FLCC-64/30
TLWY12/0.50

Net price from

152.66 GBP

Type of wire
ribbon
ribbon
ribbon
ribbon
Ribbon cable pitch
1.27mm
1.27mm
1.27mm
Core structure
stranded
stranded
stranded
stranded
Kind of core
Cu
Number of cores
16
10
64
12
Core diameter
28AWG
28AWG
28AWG
Shield structure
unshielded
unshielded
unshielded
unshielded
Wire insulation material
PVC
PVC
PVC
PVC
Insulation colour
grey

black
blue
brown
green
red
white
yellow

Operating temperature
-20...105°C
-20...80°C
-20...80°C
-40...105°C
Rated voltage
300V
300V
300V
500V
Package contents
30.5m
30.5m
30.5m
50m
Conform to the norm
Cable structure
16x28AWG
10x28AWG
64x28AWG
12x0.5mm2